Original poster of Sexo sangriento, with Rosa Romero (standing) and Vicky Palma


Sexo sangriento (1981), directed by Manuel Esteba
Written by Javier Esteba and Xavier Flores
Photography by José Luis Valls
Music from the CAM catalogue
Editing by Emilio Ortiz
Production manager: Gloria Sancho
Sound recording: Jorge Sangenís
Paintings supplied by Jorge C. Rull
Make-up: Angelines Otal
Assistant director: Xavier Flores
Chief electrician: Ramón Ferré
Script supervisor: Marga Carmona
Special effects by Ramón de Diego and Ramón Ferré
Cast: Ovidi Montllor (The mute), Mirta Miller (Gloria Domènech), Diana Conca (Laura), Vicky Palma (Andrea), Rosa Romero (Norma), Carlos Villafranca (Mario), Vicenç Manuel Domènech (Vicente Domènech Sancho), Gloria Sancho (Secretary), Ramón Ferré (Waiter), Alex Escribá (Child in basement).
Voice cast [uncredited]: Roser Cavallé (Gloria Domènech), Diana Conca (Laura), Gloria Roig (Andrea), Julia Gallego (Norma), Carlos Villafranca (Mario), Vicenç Manuel Domènech (Vicente Domènech Sancho).
Running time: 76 minutes
Like several other Spanish "S" films, Sexo sangriento (which translates literally as "bloody sex") feels like some previously cancelled project belonging in another genre that was dusted off and duly revamped when material was needed for the making of a softcore film. The genre in question here is that of the horror film, making it unsurprising that the working title was actually El círculo del terror (the circle of terror). When the film opened under its final name, with top billing given to the late Ovidi Montllor, the popular actor-singer felt compelled to address possible worries about his career undergoing a radical change and made statements in the press specifying that the film's title was different during shooting, that he had not participated in sex scenes and that the film itself, in any case, was unlike other "S" scenes. The following year, the same film's director, Manuel Esteba, pulled off a similar trick by casting Emilio Gutiérrez Caba and Joaquín Kremel in Porno: Situación límite. Kremel is on record as stating that he had simply accepted an acting job in a crime film and was unaware of the sex scenes, involving other cast members, that were also being shot.
It's not for nothing that the bilious, hate-filled, misogynistic and misanthropic "S" films of Manuel Esteba have been placed among the sleaziest of their type. This may or may not bear on the hard time he had to endure much abuse from Iquino while working for the latter on the western Saranda (1970), which abuse he vented, under the effects of alcohol, on the guiltless Dean Reed and César Ojínaga; but whatever the reasons, sleazy his films certainly became after that. The highlight, so to speak, of Sexo sangriento has Mirta Miller seduce Vicky Palma and, while they are kissing, plunge a knife straight into Palma's vagina as she holds her lips tightly locked to her own.
The initial scenes do not promise such extremes. The prologue takes us to a northern Spanish mountain village in the spring of 1942. Hand-held shots convey the dynamics of a soccer game played by children wearing school smocks and espadrilles as they kick a makeshift ball made out of rags. The ball disappears into the basement of a nearby house, prompting one of the players to retrieve it. There he finds somebody mysterious, casting a shadow against the wall. For the time being, we are not told what, for the credits start, scored by a Goblin-like CAM cue. As the proper is resumed, the action jumps in time to the autumn of 1975. Andrea, played by Vicky Palma, is driving her car along a road amidst snowy mountains. The car radio announces General Franco's death, but Andrea is not interested and switches on to lyrical piano music to accompany her lonely drive. She has just driven Norma (Rosa Romero) to a ghost town, leaving her behind so that she may record the psychophonies of the site. Andrea rejoins her lesbian lover Laura (Diana Conca), and the two girls spend the night in a hotel before picking up their psychic friend, who has chosen to sleep among the ruins. The three girls are on their way to another of the region's many uninhabited villages when, in a classic horror trope, their car breaks down and they are offered hospitality by the reclusive painter Gloria who lives on her own with a mute servant (Ovidi Montllor).
As the film advances, its plot gradually fades away, almost disappearing into a generalized mood piece, set in and around the dilapidated, underlit country villa. Norma, almost a stand-in for the audience, remains on the margins of it all, walking in the surroundings of the house with her tape recorder, halfway predicting what is to happen, and like the viewer, not participating in the sex scenes but viewing them, as it were, without herself being seen. At night, Andrea and Laura make love in their bedroom; a few rooms away, Norma is reading a book but cannot help sensing what is happening and, as a synthesizer cue soars in the soundtrack, the young medium puts down her book and turns to herself…The mute, playing a role akin to that of Morpho in the Orloff films, is referred to as mentally retarded, but he actually finds occasional entertainment in a chess board he visits now and then; whenever, he returns to it, the teasing Andrea has moved two of the pieces in his absence. His reaction is simply to make the next two moves on both sides… Gloria's lover-agent Mario (Carlos Villafranca) arrives for his monthly visit; dining with the reclusive artist and the three girls, he tells of Gloria's father, the esteemed Dr. Vicente Domènech, a mayor in the times of the Second Republic, who had helped the villagers as both doctor and politician, but was tipped off to the Nationalist authorities after the Civil War…Norma is most aware than either of her friends of something lurking in the house, an impression that first dawns on her on seeing the framed picture of the serious, bearded Vicente Domènech (Vicenç Manuel Domènech). Norma's paranormal senses lead to a replay of the pre-c redits sequence, this time with the ending hitherto left hanging: living in hiding, Vicente Domènech was innocently discovered by a child in his cellar-hideout. Desperately seizing the boy in fear of being discovered, he unwittingly kills him and the flashback concludes, like George Eastman in the boat scene of Anthropophagous, he grimaces with horror at what he has done, the beginning of what will later become the insane murder of all of the small village's inhabitants, in the presence of the young and impressionable Gloria, who has recently given birth to a mute child, the result of a gang-rape by Nationalist troops. ..In the present, Gloria asks successive characters to pose for her but the sitter is invariably brutally killed, and then taken along to sit at a dining table along with previous victims…Dr. Domènech's grave may be on view outside, but its supposed occupant is not really there, but in the basement that has long been his home - still alive, still scared and still dangerous…
There's little interest in narrative development to speak of. At times, the film plays like a spooky travelogue of the photogenic sites, both indoors and outdoors, with agitated string figures; and overspills into quasi-abstraction as the camera pans and tracks along props, paintings, sculptures or ruins, occasionally inserting oneiric images of skulls, or (these being favourite devices of this director) constructing entire scenes composed of jagged cutting or different angles of the same object edited together. Even one of the murders is filmed in a spatially fragmented way, with close-ups rather than general views.
It is known that Esteba used Peter Traynor's Death Game as the basis for another of his softcore films, Viciosas al desnudo. Another film of his in similar vein, Trampa sexual (1978) bears a strong resemblance to I Spit on Your Grave, but this, for reasons of chronology, this may have been a coincidence. But was Sexo sangriento inspired by Anthropophagous, made a year earlier? Maybe not, but the resemblances are there: the travelers in the ruinous and isolated house, inhabited by a mysterious woman; the black-and-white photograph of the "monster" back in his days of "normality"; the sinister man related to the woman roaming about, the flashback to a crime the perpetrator did not want to commit; the killing of the inhabitants of a small village…Who knows? But then if such influences exist, they seem fully assimilated in Esteba's own script. This, in fact, is uneven an uneven affair, which could have done with some rewriting of the clumsy dialogue and scene-setting. Much more successful is the casting, some of it seemingly intentionally perverse, giving a well-known singer the role of a mute and a dubber a part with only one line. And the dubber in question, the late Vicenç Manuel Domènech (a strong presence, by the way) seemingly had no problems accepting the role of an axe-wielding maniac named after him! Were he and Esteba friends? Or was he uniformed about the scene in which his name is given? Would his fellow dubber and frequent co-worker Julia Gallego, who reads the relevant line, have reported to him if so? Domènech's voice does certainly recur in the director's films, both before and after this film, in one of them supplying the voice of a bit actor suspiciously resembling Esteba himself.
According to the MCU site, Sexo sangriento had a small attendance of less than 90,000, but then, it was meant to be a softcore film and the sex scenes, long and intense as they are, come across as adjuncts to the horror tale of a well-meaning man who, having been made homicidal by his evil surroundings, later spread his own recently-acquired evilness among his family, as if it were an illness. As Gloria says at one point, "there are times that good only leads to evil". When all the evil has gone at the end, Norma, the sole survivor, leaves the site and the screen fills with a (telescoped) epigraph from Algernon Blackwood (The Empty House):
"Certain houses like certain persons manage somehow to proclaim at once their character for evil, and it is the aroma of evil deeds committed under a particular roof, long after the actual doers have passed away, that makes the gooseflesh come and the hair rise"


Mirta Miller




Ovidi Montllor




Vicky Palma, during her solitary drive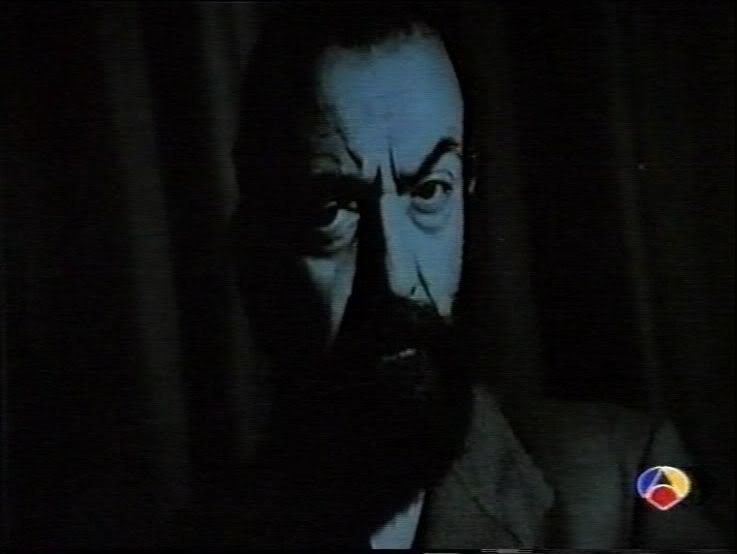 Portrait of Vicenç Manuel Domènech




Domènech, on discovering what he has done to the child

Various moments from the film: