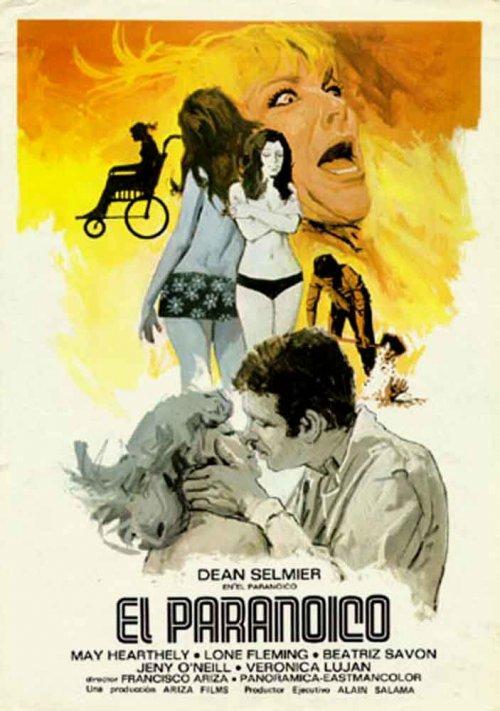 El paranoico (1975, Francisco Ariza)
Despite its obscurity, El paranoico ("the paranoiac") is quite a typical product of its time and place. In the period immediately before and immediately after the death of General Franco, a relaxation of censorship unleashed a string of films capitalizing on sex and/or violence, many of them made by fly-by-night directors who had seemingly materialized out of nowhere and were about to disappear as suddenly as they had come. These people, in reality, were often film veterans who, having cut their teeth as assistant directors, co-writers or in some production capacity, were now unambitiously taking up directing to profit from the new situation. Writer-director Francisco Ariza was typical in this regard, with a career spanning back to the 1940s, when he had functioned as a business partner of Iquino's, and filled with credits as a line producer.
Ariza's film also reflects that contemporary minor trend in Spanish cinema of serial killer stories told from the murderer's point of view, as shown by two other films of the same year: El asesino no está solo, starring David Carpenter and helmed by the former critic Jesús García de Dueñas, and Miguel Madrid's El asesino de muñecas. Shortly later, the post-constitution period brought a similarly themed picture in José Antonio Barrero's softcore crime movie La sombra de un recuerdo (1978), which bore the recently created "S" classification and starred Manuel Tejada as a seducer/strangler on the loose, with a cop character played by Emilio Gutiérrez Caba on his heels.
In the case of El paranoico, the story revolves around a businessman whose failing marriage, made sexless since his wife became confined to a wheelchair, has rekindled long-forgotten childhood traumas, goading him into killing a succession of secretaries he takes under his wing. Both Dean Selmier as the killer and May Heatherly as his wife give competent performances and it is presumably the director, not Selmier, who must be blamed for the ridiculous facial twitching with which the actor alerts viewers of yet another impending murder.  As for the film itself, it has all the ugliness and banality one should reasonably expect from a Spanish exploitation flick of those days, especially when commissioned by a Madrilenian production company. The story, however, is reasonably arresting and one is kept watching to see how it develops and how it will all end. When the ending (or what appears to be such) does arrive, it is as unexpected as it is stupid and arbitrary. Still, the worst (or, according to one's viewpoint, best) has yet to come in a most grotesque and jaw-dropping epilogue: absurd final twists are certainly not rare but it is something of a perverse feat on Ariza's part to top this with a further, downright perplexing turn of the screw.  
Also with: Lone Fleming, Verónica Luján and an uncredited Montserrat Julió.