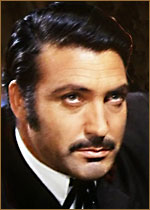 Italian actor Rik Battaglia died on March 27th in his hometown of Corbola, near Rovigo, Veneto, Italy. He was 88 years old. Rik, born Caterino Bertaglia in on February 18, 1927, was much like Mario Girotti, better known as Terence Hill, they appeared in the Karl May Winnetou series of westerns before their careers in Euro-westerns. Sometimes billed as Rick Austin and Riccardo Battaglia he was discovered tending bar by director Mario Soldati. He was offered a role opposite Sophia Loren in 1955's La donna del fiume. He then attended the Experimental Centre of Cinematography in Rome for two years. After graduating Battaglia went on to appear in over 100 films mainly in the 1960s and 70s.
By the end of the 1950s he became popular in Peplum and historical costume films always in important supporting roles. He continued in action roles often appearing as suave villains in westerns, spy and police films. He appeared in several Terence Hill / Bud Spencer films and also with Sergio Leone as a revolutionary soldier in Duck You Sucker.
Like many suave villains such as Ray Danton, and Harald Leipnitz we've come to love and respect Rik always had a twinkle in his eye and a smile on his face while he plotted to kill the hero, kidnap the heroin and send his henchmen to terrorize the locals.
Thankfully Rik's portrayals covered many genres and we have many of his films on DVD so we can enjoy his work for years to come. Thanks Rik for many years of enjoyment and your always fine perfomances.
BATTAGLIA, Rik (aka Rick Austin, Riccardo Battaglia, Rick Battaglia) (Caterino Bertaglia) [2/18/1930, Corbola, Rovigo, Italy – 3/27/2015, Corbola, Rovigo, Italy] - TV actor.
Shatterhand – 1963 (Dixon)
The Sheriff was a Lady – 1964 (Steve Perkins)
Pyramid of the Sun Gods – 1964 (Captain Lazoro Verdoja)
The Desperado Trail - 1965 (Rollins)
Legacy of the Incas – 1965 (Antonio Perillo)
Pyramid of the Sun Gods – 1965 (Captain Lazoro Verdoja)
The Treasure of the Aztecs – 1965 (Captain Lazoro Verdoja)
Thunder at the Border – 1966 (Sergeant/Captain Mendoza)
This Man Can't Die – 1967 (Vic Graham)
Black Jack - 1968 (Skinner/Sanchez)
The Longest Hunt – 1968 (Major York/Norton) [as Rick Austin]
This Man Can't Die – 1968 (Vic Graham)
The Man With the Long Gun – 1968 (Murdock)
Chapaqua's Gold - 1970 (Mexico/Murphy)
Hey Amigo, to Your Death - 1970 (Barnett/Burnett)
Duck You Sucker - 1971 (Santerna)
The Long Ride of Vengeance – 1972 (Montana) [as Rick Battaglia]
The Call of the Wild - 1972 (Dutch Harry)
White Fang - 1973 (Jim Hall)
Challenge to White Fang - 1974 (Jim Hall)
The Genius - 1975 (captain)
A Man Called Blade - 1977 (Gerard Merton)
Buck at the Edge of Heaven - 1991 (Bauman)