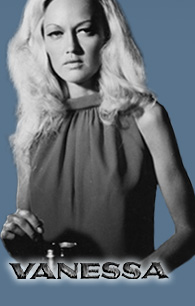 Vanessa (1972)
Written and directed by "Maximilian Zeta" [René Cardona Jr.]
The cat and the canary
I tried out an old Spanish VHS of this one by sheer chance, mistaking it for the Vanessa of Hubert Frank; it turned out to be an earlier, comparatively mild piece of softcore by René Cardona Jr., made in co-production between Mexico and Ecuador, the latter of which was probably mainly in charge of putting up the Galapagos Islands locations that provide the backdrop throughout. The locations, in fact, vie for pride of place with the cast so it is the actual script that may qualify more properly as a backdrop: a tale of love triangles, lesbianism, jealousy and greed serves as a mere structuring device for an 85-minute holiday in the Galapagos (as caught by veteran DP Alex Phillips  Jr.), with sex and a bit of plot tossed into the mix. Women either wealthy or striving to be such all represent variations on a basic prototype of four b's (blonde, bronzed, big-haired and bitchy), their bodies being lusted after by domestic servants of either gender and their jewels having a similar effect on the female element only.
Fans of Cardona's Tintorera (am I talking to anyone?) may find Vanessa of some interest as a dry run for the later, better-known movie, which was to offer a roughly similar combination of slight plotting, holidaymaking and hedonism along with Hugo Stiglitz in the cast. Possibly, an interim viewing of Jaws convinced Cardona that a dangerous marine lifeform could provide the same package with more colour (not to say a pronounced narrative arc) than the assortment of arbitrary character quirks that adorn the titular character of Vanessa: having a thing for S/M, she likes being slapped around by whoever happens to be her partner at this or that moment. She is also given a presumably symbolic, one-scene phobia for horses. Animals, in fact, figure a great deal in the proceedings, even if no sharks, as yet, emerge: Cardona will frequently cut away to footage of either wildlife or pets as a commentary on the main action. Thus, for instance, when the wicked Vanessa scores one of her points, this is counterpointed by some business of a cat breaking into a canary's cage before implicitly eating it.
The version viewed corresponds to that shown theatrically in Spain in the late 1970s, when it was taken up to satisfy the then-insatiable market for "S" movies. To judge from the language of the credits sequence, it looks as if the Spanish distributor was sent the English-language version of Cardona's film, which is one reason why this Mexican film, for which Spanish dubbing already existed (only Eric del Castillo's real voice was heard), got dubbed into European Spanish. The other reason is that, at the time, Latin American films shown in Spain were usually dubbed into the peninsular variant of the language to ensure audience appeal – a policy reportedly also practiced the other way around.